Journal

Contact Us
Poems
Site Map

This beautiful island is still a French colony, well-off like most of them, but resentful of control from Paris.
At 3 AM we approached Havannah Pass -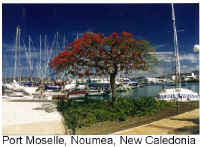 on the chart it looked like it was about 20' wide, although we knew it was more like a mile! Fortunately we were following 3 other cruisers and used their masthead lights as range marks. By mid-morning we were tied up at the beautiful Port Moselle in Nouméa. A short stroll from the marina is the market - with fresh baguettes, vegetables, and fish - get there early to get the best items. Gift and souvenir stands abound. We got to practice our French again - many vendors ignore English and respond only to well-pronounced French.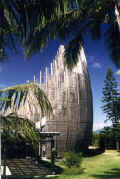 One of the most spectacular architectural wonders is the Tjibou Cultural Center, a modern structure with overtones of the Canak (indigenous islander) houses.
We rented a car, and spent 2 days driving the length of the island. We saw beautiful beaches, cattle stations and ugly scars of open-pit mining. Several of the peaks are high grade nickel, the major source of wealth for the island is nickel mining; however restoration and re-forestation seems to be far in the future.
During our short stay in New Caledonia, we had to delay our trip to the Port Authority because dock strikers had built barricades that were under attack by gendarmes using tear gas and concussion grenades when we tried to pass them. On our return from the trip around the island we were stopped twice - once by nickel miners blocking the roads with huge mining trucks, and again by the gendarmes as they defended a bridge to prevent the trucks from entering Nouméa. Viva la revolución!
This popular resort a day's sail south of Nouméa attracts many cruisers - some stay for months at a time. We were running late in the hurricane season and had to give it a miss.
Your choice: