Week Ending 2 March 2002 (Bob)
More Wonderful meals with family -Once again, we made the rounds of the family haunts and enjoyed meals and friendly conversation with family. On Monday we had pizza at Stephanie's (Denis' girl-friend) with her mother Nancy and friends from the Middle East. On Tuesday it was Grandma Dottie's turn, as we all gathered around a plentiful buffet and chatted about everything under the sun. Finally, on Wednesday we took Denis to Taste Buds, a restaurant with a wonderfully eclectic menu. On the education front, Denis is planning to rejoin academia in Tallahassee so several evenings focused on this renewed interest, and how to pull it off. Stay tuned for more on this front.
Another cross-country trip - On Thursday, we bid a somewhat sad adieu to all in the family, and headed to Jacksonville to catch our flight to LA. We took a detour to St Brendan's Isl. in Green Cove Springs to visit our mail service (first time ever) and found them to be friendly and well-organized, now we can put a face to the person at the other end of our emails! Late in the afternoon we caught an AA flight to LA (via Dallas) and arrived at the Adventurer Motel with enough time to drink one of their $.99 margaritas before crashing for the night. By the way, we have now stayed at this motel 3 times, and strongly recommend it: friendly staff, only $55/night near the LA airport, and a diverse crowd. We shared drinks with a guy from Fiji, a couple from Finland, and many from Oz and New Zealand!
Fitting 10 pounds into a 5 pound bag - Awaiting for us at West Marine in Marina Del Rey was a package: rigging wire and fittings to replace all of the standing rigging on our main mast, a mere 75 lbs., to fit somewhere in our bags. After buying a new VHF radio and a few other trinkets we bailed 3 bags out of a locker that we had been storing in the motel for the last 2 months (they were happy to relieve us of $96 for the privilege. Then we proceeded to reorganize items so that we were down to only 6 bags weighing in at 240+ pounds - tune in next week and see what Malaysia Air thought about that! The rest of the week found us at Muscle Beach and Venice Beach people-watching.
Week Ending 9 March 2002 (Bob)
Long Flight Home - We boarded Malaysia Air flight 95 at 30 minutes 'til midnight on Saturday, and dragged our bags off the carousel at Langkawi approximately 26 hours later; many spent in waiting lounges along the way. Our advice for the International terminal in LA is: don't pass security until you have to, since the waiting area is really dull! The layovers in Taipei (1 hour) and Kuala Lampur (4 hours) were also boring as neither airport has any amenities of note. On the bright side, all connections went smoothly and no baggage was lost (2 bags torn, but the only loss seems to be keys for a special padlock).
Back on Long Passages - The NE monsoon had set in while we were gone, and so the weather has been hot and dry and LP survived with nary a hitch. No mildew or mold inside and all canvas was intact. The icebox was a little rank since we had not expected to be gone 2 1/2 months and a few UFOs appeared (unidentified food objects), but a little elbow grease and Clorox put it right again. The 6 bags of stuff that seemed so overwhelming at the airport were swallowed by LP's lockers with barely a groan.
Installation of some goodies - Our heavy bags disgorged a few toys from West Marine, so we installed a new VHF (ICOM M402 with a remote microphone near the steering wheel) and additional fans for the tropics.
Planning for the next few months - Judi's sister, Sharon and friend Stephanie plan a visit in July, so we are deep in the planning stages for this exciting event. We are attempting to put together a memorable trip through Thailand that will not break the bank accounts - stay tuned. We also want to visit Ankor Wat in Cambodia, so this must be fit in sometime this year.
Enhancing the site - Judi decided to capture some of her best hints for configuring the galley and storage areas plus a few culinary hints in our new Galley Tips page - give it a try!
Week Ending 16 March 2002 (Bob)
JUDI HAD A BIRTHDAY!!
Another momentous occasion - one day before the Ides of March, this time in a secluded anchorage in Malaysia!
Back in tune with Langkawi - We had to re-learn some of our lessons - like where to get the rental car (just call Faizal!), how to drive on the left again, where the best veggies were, and what days the shopping stores were open. We picked up a few courtesy flags for the Red Sea countries and spent a couple of afternoons lounging in the pool at the resort.

Venturing forth - After a few days in the marina, we cleared the decks and set out for a couple of peaceful nights at a local anchorage known as The Fjord. We were the only yacht there and the wildlife made it fascinating:
At sunrise and sunset the monkeys wandered the beach looking for grubs and shellfish.
Hornbills flew high into the trees on the cliffs around us.
High overhead Langs (Braminy Kites) circled looking for fish in the bay or trying to pry one loose from another Lang.
For an hour, several groups of pink nosed dolphins circled our boat, feeding on schools of fish in the murky water.
After two nights and lots of reading and relaxing, we motored back to our slip at Rebak Marina, ready to venture even further next week.
Getting ready to head North (again) - Before our precipitous decision to fly to the USA in December, we had provisioned and were about to set off for Thailand. Now, 3 months later, we will try it again. The weather is not as good; the NE monsoon has blown itself out, the winds are becoming light and variable and the rainy season is nigh upon us, but we plan to get under way on Monday. On Saturday we checked out of the country and loaded up with fresh veggies; Sunday we filled all fuel tanks and whiled away the afternoon watching the Formula 1 races in Kuala Lampur. Monday we tie everything down and head North.
Week Ending 23 March 2002 (Bob)
Check-Out - This was quick and painless: a visit to the Port Captain and to Customs at the main Ferry Terminal released the boat, and Immigration freed the skipper and mate. Total time: 1 hour plus the time it took for us to walk to the Golden Beach Bar for a final beer. There we met a cruiser from Annapolis, but barely had time to share a few stories before the first squall of the new rainy season hit while we scooted back to the boat.
"Hole in The Wall" - We

had wanted to see this spot ever since Sandra on "Quarterdeck" pointed it out on a map and described the sea eagle feeding and pristine bay. We motored around from Kuah through a channel that Rod on "Tillerman" said was 'no problem'. And so we found it, narrow and shallow in spots so we worried a lot but really had no problems. "Hole in The Wall" is the cruiser's name for a 100' opening in a cliff-face that widens into a 200'-wide river bordered by mangroves. It was beautiful, with Langs (Braminy Kites) and Sea Eagles flying overhead and lots of fish to keep them busy. We found a half dozen yachts anchored among the mangroves on various branches of the river and spent 2 days exploring a few of the wandering branches, and felt there are still many miles to be seen. This reminded us a little of our pass the the Hole In The Wall pass in the Northern Territory of Australia. Later we had drinks at the Barn Thai restaurant, a picturesque spot in the mangroves that attracts cruisers plus bus-loads of tourists. On our final day we watched a tour guide, as they spread chicken skins on the waters and attracted the Langs and the Sea Eagles to swoop down and provide the tourists with photo ops for the day. It was sort of crass, but the birds are so graceful we overlooked the touristy aspects. For those that follow, the entrance is at 6° 25.62'North, 99° 52.13' East
North to Thailand -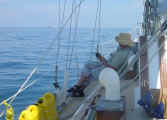 We finally set out for Thailand on a drizzly morning that got better as the sun rose. Four hours out of Langkawi we pulled up to the side of Ko Tuataro, the southernmost Thai island and settled in for the night. We did not go ashore, but hope to do so next time through. Today we made a long sprint, 50-some miles to Ko Muk and a rolly anchorage in front of a tiny beach and massive cliffs - a beautiful spot, although we are not
sure how well we will sleep with the swell coming in from the SW. Along the way we found that Thailand has a thriving fishing industry, we had to weave our way through miles of fishing grounds with flags and nets every few hundred feet - not an occupation for nighttime navigators!
Fish 2 - Bob 0 - Along the way we have dragged a fishing lure, hoping to have fresh tuna for dinner. At the end of the first day we pulled it in and - Horrors! - the lure and leader had been bit clean off! Oh well, it was probably too big to land anyway. As the sun dropped on the second day, the reel screamed and Bob reeled it in - a beautiful mackerel, only to lose it at the last minute as it jumped clear of the surface. Canned tuna salad sandwich for lunch again.
We are glad to be on the move again, and hope to be in Phuket and Boat lagoon this time next week.
Week Ending 30 March 2002 (Bob)
The NE and SW Monsoons - This part of the world is dominated by 2 seasons:
NE Monsoon - The period from December to March when the breezes blow from the Northeast. On the western coasts of Malaysia and Thailand where we have been sailing this means dry weather, blue skies and delightful sailing. This is the time that cruisers travel up and down the coast and visit the many islands in the bay between Phuket and the mainland.
SW Monsoon - The period from June until October when the breezes blow from the Southwest and bring periods of rain, squalls, high winds and rough seas to the west coasts of Thailand and Malaysia. Most cruisers hunker down during this time. travel home and to other countries or work on their yachts.
Transitions - The periods of April-May and October-November represent transitions between the monsoons, and wind can come from any direction while rain will be sporadic and unpredictable. This year the transition to the SW Monsoon appears to be a little early.
Ko Muk - 7° 22.52'N 99° 17.19'E - The guide books describe this beautiful island in glowing terms, and the cute beach with its palms lived up to the description. Unfortunately it faces SW, and the breeze had been coming in from the West all day, and so it was quite rolly and we passed a fitful night - we slept in the cockpit and salon to avoid the pitching bow (Bob threatened to be sea-sick). And so, we moved on the next day without landing at this pretty spot - perhaps next season. On the way, Bob finally landed a fish, but its 6" length wouldn't fill 2 sandwiches, so it got to live until another day.
Ko Phi Phi Don - 7° 44.06'N 98° 46.07'E -

This snug and protected anchorage (pronounced 'Pee Pee') represents all that is good and bad about development in Thailand. We anchored in 20' with a coral ledge about 4 boat-lengths to our West, and a short dinghy ride to the beach. The high cliffs above and swaying palms made it beautiful. However, beauty attracts people, and so this one attracts backpackers from around the world, and day-trippers from Phuket (only 25 miles away). Thus the landing area was

wall-to-wall with tourist attractions: restaurants, tour operators, dive shops, Internet cafes, long-distance phone services and more. The waters were frequently churned up by the hundreds of "long-tails" taking snorkelers out to Phi Phi Ley, a small island to the south. At night we were introduced to local Thai cuisine: spicy, delicious and cheap with water-front seating. Guys dressed in drag roam the crowded streets trying to round up customers for the transvestite shows. We hiked up to the 'viewpoint', a hill with a great view of the anchorage plus an enterprising fellow selling cold drinks. Overall, it is great spot for a couple of days of excitement, but not a relaxing anchorage for cruisers.
Ko Rang Yai - 7° 57.45'N 98° 27.23'E - 25 miles to the northeast of Phi Phi lies Boat Lagoon. We arrived at the vicinity in the early afternoon, and the breeze was so nice we sailed back and forth for an hour or so - the first real sailing since leaving Australia! Yachts can only enter the narrow and winding channel on the high tide, so we decided to anchor behind a small island near the channel, and enjoy on more quiet night at anchor before returning to marina life. As we slowed to anchor, the prop in reverse sucked the fishing lure in and chopped it off - the fish got the last laugh this day also. We anchored beside 'Sapo' and chatted with Mary, a personality we had heard on the radio elsewhere in the Pacific in the mid 90's. We swam and enjoyed the evening, which turned choppy when squalls passed over us, but generally was very pleasant.
Phuket Boat Lagoon (at last) - 7° 57.76'N 98° 23.23'E - High tide was at 10 AM so we prepared to enter the channel at 0930. This channel is a line of pilings, about 1 1/2 miles long that one must keep about 20' to Port. There was a guide boat to lead us in, and we were really glad since at one point the pilings end and one must continue motoring into the mangroves, with no markers at all. After many bends in the creek arrival at the marina was almost anticlimactic, but still welcome. 5 minutes later we were snug in E14 beside 'Rachel J Slocum', first seen in Gove, Australia. Over the next days we renewed friendships with Kim, John, and Alex from 'Moonshadow' and Peter and Jeanette from 'Voyager' and met many others at this final jump-off point before crossing the Indian Ocean. The facilities seem great, and everyone seems to have major projects underway. In fact we have gotten caught up in the excitement, and have compiled a list of potential projects that might be affordable at Thai prices - we'll see. Upon arrival we rented a jeep and drove to Phuket Town to see the big city (more on this another time) and to Ao Chalong to brave Immigration, Customs, and the Port Captain. Many stories we had heard about corruption and extortion here in Thailand, but the check-in was uneventful and cost about $US8.00. Unfortunately our visas are only valid for 30 days, so we, along with all other cruisers, must periodically renew by leaving the country and returning. Quite a hassle, but one of the prices of paradise.
Wonderful Thai Food - We have heard for years about the wonderful food in Thailand, and now we believe it all. They have curries, stir-fried dishes, fried noodles and fried rice dishes - the list goes on! All we have had so far are tasty and delicious and the prices are right, some examples:
Stir-fried rice with chicken at 'green chairs', small place near marina: 20 baht, $US0.50
Curried chicken and cashews plus rice and dessert: 80 baht, $US2.00
Sandwich at high-priced deli in marina with delicious bread and fillings: 120 baht, $US3.00
Beer at near-by restaurants: 40 baht, $US1.00
We will eat on the economy most of the time since the boat is really too hot for cooking and food outside is good and cheap!