Journal

Contact Us
Poems
Site Map

Written Christmas 1996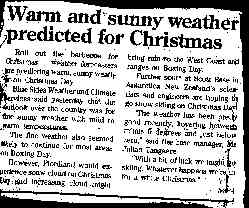 Merry Christmas to all and a Happy and Prosperous 1997. Things are still going well for both of us, and we are glad that Summer has arrived (see above). 1996 has been a low-key year, with a little traveling, a lot of work, and little more money in the sailing kitty.
We visited some friends in Sydney between last Christmas and New Year's for a week. Sydney is a beautiful city on a well-used and shelters harbor. Our friends lived on the waterfront, and we could take a ferry downtown and act as tourists. We rented a car for a couple of days and drove up into the Blue Mountains to the West of Sydney. They are really a set of plateaus and are very pretty, with sharp cliffs and ravines, similar to the Grand Canyon. A nice Bed and Breakfast and an eclectic restaurant made for a great time. Australia has many colorful birds like parrots, macaws, and parakeets flying wild in the mountains, and we saw lots of them when we took a walk through the woods. They are very tame and photogenic near the tourist spots. For some reason, these colorful birds have not migrated to or survived in New Zealand, so there are few colorful ones here. After our walk with the parrots, we went back to the visitor center, and pushed our way through hundreds of Japanese visitors who had also come to the mountains, We have found that both New Zealand and Australia attract many Japanese tourists since they are close, and relatively inexpensive.
In March we had the good fortune to visit Australia again. Bob's company, Baan, sponsored a conference near Brisbane, which is north of Sydney, and at the end of the conference Judi came over for a long weekend, so we got to see a little of the warmer part of Australia. Brisbane is on the Sunshine Coast with lots of beaches and tropical weather. We drove around, shopped, and then hired a pilot to take us on a trip along the beach in a "Red Baron" type of biplane with

an open cockpit. It was fun, although it was so noisy we could not talk to each other. After a few days of sunshine, back to the work grind in NZ again.
On the job front, Judi is still contracting to Telecom and doing quite well. It entailed long hours and many weekends during the Fall, but the system she has been helping implement has gone live and she has moved onto another project. It looks like her work with them will go on for the indefinite future. Bob's work has not been as smooth; he started work in November '95 as the 'Country Manager' for Baan, an application software company which sells million-dollar solutions to manufacturing companies. As he was about to close his first deal, the company (managed from Australia) decided to turn the operation over to a distributor as soon as that deal went through so that ended in August. He is currently consulting with a small software and telecommunications company, and it promises to be interesting. The Project Management Institute, a professional association, suckered Bob into helping organize a Conference in Auckland. So with a team of neophytes he spent many hours planning and negotiating, and pulled off a technical conference where everyone had a great time, and was very satisfied. Business did require a little travel so both of us have made it to Christchurch on the South Island and Wellington (the capital) for brief stays. We look forward to longer visits before we leave.
On the local scene, we kept busy with a trip down the East coast of NZ to Tauranga over Easter with our good Kiwi friends Russell and Laonie. We took walks on the beach, and climbed a steep hill with a great view of the ocean and the bay beside Tauranga. This is a small town, with some industry and lots of tourism. Easter is just about the last Holiday weekend of the year before the 'Winter' sets in down here, so people were using this weekend to clear out cottages and dismantle pop-tents for the season. In October, we had the good fortune to visit a Maori marae for a weekend. We had a great time experiencing the traditional welcome onto the marae (pressing of the noses, not rubbing them), communal sleeping (50 snoring bodies in the meeting house) and eating, and clean-up. The Maori elders explained a lot about their culture, and the meeting house was a tribute to their craftsmanship with beautiful wood carvings and paintings of nature. On one end of the room was their 'whakapapa', or family tree, showing their ancestors back to when the island was settled by the Polynesians. Lots of artists visit NZ, and so we saw 'Meatloaf', but missed Michael Jackson, The Rolling Stones, Alanis Moriset, and Diana Ross among others.
Politics have been in the headlines for the last few months. In 1982, a reformist government was elected which opened up the marketplace, privatized many of the state-owned operations, and generally has been responsible for a strong growth in the economy. However, 10 years on, the people are discovering there really is no free lunch, medical care is becoming more expensive (i.e. it is now being paid out of pocket rather than through taxes), some people are becoming wealthy and some are homeless, immigrants have been coming and doing well (the most visible being the Asians who seem to do well wherever they go), and so on. NZ voted for a change in electoral system 3 years ago which they believed would give the people more control so they have elected rep's from 5 parties. So instead of more control, they got a bunch of politicos who have spent the last 7 weeks in smoke-filled rooms after the election to decide who would be in charge for the next 3 years. Finally, the party dominated by a charismatic Maori populist agreed to tie up with the conservative incumbents to the bewilderment of his supporters and many others in the country. But he got a big car and good salary, and 'jobs for his boys' as they say in NZ.
We are planning to stay in NZ until May 98, and then visit Fiji, perhaps Tonga again, Australia, Indonesia, Singapore, Thailand, and then head for the Red Sea and the Med. At our rate of progress, we will still be cruising when the year 2000 bug strikes all of the computers and causes people to lose their money, receive overdue notices for all of the electric bills for the last 25 years, etc. Since we intend to be back in cruising mode in about a year, it is time to think of sailing again (a skill we may be slowly losing). So we have been making changes to the boat to address some of the things we didn't like:
We converted the forepeak (the cabin inside the 'pointy end' for non-sailors) was converted into a Queen-sized berth, so we can now sleep comfortably without having our bed in the middle of the living quarters.
We upgraded our sails by getting a new mylar Genoa, a full-battened mainsail, and, on the faint hope that we still have some down-wind sailing ahead of us, a colorful cruising spinnaker so we can be bright as well as fast.
We installed a Mariner hank-on furler on the inner forestay and can now control it completely from the cockpit.
We lead both mainsail reefing lines and topping lift into the cockpit as well as the main halyard, so most reefing activities can be done from the safety of the cockpit.
Plus, during a period when we were living ashore for a couple of months, the interior was completely repainted, revarnished, and all chrome fittings rechromed. Shannon should be proud!

Well that's all we have for now. We hope all is going well for you and that 1997 turns out to be a great year for all. Take care, and keep those letters coming.

Bob & Judi

S/V "

Long Passages"