Journal

Contact Us
Poems
Site Map

The crew of Long Passages have made several long distance trips by air. Here are a few ways that we found to make the trip more bearable.
Try to book a flight that leaves in the evening or at night. That way you can treat your trip as a normal night where you go to sleep and wake up at your new destination or transfer point. Our flight from LA to Langkawi took about 30 hours, including connections and waiting times between flights. Yours will probably be similar. But we had no "jet lag" as we slept whenever we could on the plane.
Get to the airport at least 2 hours before your flight leaves.
Wear loose, comfortable clothing that looks nice (e.g. Comfortable slacks and over-blouse or polo/golf shirt) – not sweatpants and sweatshirt. We have found that the flight crew will treat you better if you are dressed nicely.
Make sure that nothing is tight at waist, hips, legs or shoulders.
Bring good book
Try to get seats on a bulkhead or exit row or an aisle seat.
We like to order vegetarian meals (this must be done when you make your bookings). They are usually better and not as heavy as the regular meals.
Get up and walk around whenever you are awake or at the very least just stand and lift legs and stretch for a few minutes.
Once the plane has boarded or has taken off and the seatbelt sign has been turned off, look for a vacant row where no one is sitting. Move to that row, lift up the armrests and lie down and sleep or just put your feet up.
Drink lots of water!!!! Whenever the flight attendants offer you water or juice, take one – preferably water.
Take off shoes and wear socks or footies on the plane.
Do NOT drink more than 1 or 2 alcoholic beverages as they dehydrate your body.
Do Not drink caffeine beverages if they affect your sleep unless you are ready to "get up".
Carry a light carry-on bag or backpack with at least the following items:
Book and/or magazine
Toothbrush and toothpaste and maybe a "travel-size" of mouthwash
Deodorant
Pack of makeup removal sheets to use to refresh your face and/or packs of Wet Ones.
Camera
Passports (unless in purse)
Travelers checks (unless in purse)
A few snack foods – although you usually get more food than you can eat on these flights.
Reading glasses
Aspirin or Tylenol (Panadol) and any other medications you feel you may need.
Light sweater or jacket (optional)
Try not to make your bag too heavy as you may have to carry it long distances thru airports.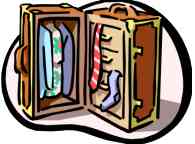 Travel Clothing Guidelines for the Tropics
Light Cotton or linen blend or cotton knit items such as:

Nice T-shirts (or Women's Tees) or polo/golf shirts
Shorts
Skirt or light dress
Blouses or dress shirts (2-4), if desired.
Slacks (khakis, "Dockers" for men or capri pants for women) at least one pair.
It is suggested you not bring jeans as they are too hot for this climate and are bulky to pack. Jean shorts or bermudas OK
Bathing suit and cover-up or sarongs
Cotton underwear
Light cotton nighties (women) or pajamas

Cheap flip-flops or beach sandals to wear around the pool or on the beach
Good sandals (e.g. Teva) and/or walking/cross-trainer shoes.
Socks or footies, if wearing walking/cross-trainer shoes
Pair of dress shoes (or nice flats or sandels for women. No high heels Also you may want to bring nylon footies to wear with you flats as panty hose may be too hot.)
Hat of some kind (preferably one with a wide brim)
Light-weight rain jacket with hood or a fold-up umbrella
REMEMBER: If you would not wear this item at home, do NOT pack it as you will not wear it on holiday either. Try to bring items that don't wrinkle too much such as knits or cotton blends or linen/rayon/polyester blends.
Make sure that the chargers for all electronic "toys" (e.g. video or digital cameras) or electrical applicances (e.g. hair dryer, shaver) operate on dual voltage (110/220 volts).) An alternative is to carry a small 220-110 transformer that can be bought at Brookstone electronics

Obtain and bring a "multi-plug" converter that will allow you to convert the electrical item plug to the wall outlet configuration in the country to which you are traveling. This "converter" will NOT convert the voltage. The unit you want to plug in must operate on both 110 volts or 220 volts or have a switch which will allow you to change voltage.
Prescription Medications that you may need
Personal hygiene items such as:
Sunscreen
Insect Repellant (one with Deets (35%) is preferable)
Travel Iron that is dual voltage (110/220 volts)
A few first aid items such as band-aids and antiseptic.
Favorite cold medications as you may pick up a "bug" on the flight.
Hand sanitizer (waterless hand cleaner) in bottle or towelettes such as Purell Hand Sanitizer